Product Features:
The compact line is composed of QCL series, vertical ultrasonic washing machine, ASMR circulating, heating and air sterilizing oven and AAG series of sideling type ampoule filling and sealing machine. Each machine can be used standalone. It applies for the production of 1-20ml ampoules. It can complete procedures, such as, ultrasonic washing. Three times of water washing, three time air spraying, sterilizing, cooling, filling and sealing and protection gaseous filling (compressed air filling + nitrogen filling)

Eye Drop Filling 
Product Features:
This monoblock machine incorporates filling, plug insertion and over cap sealing functions. It is mainly used in small volume liquid packing applications. Being compact, minimal energy consumption, the machine is especially suitable for use inside a sterile area. With PLC and other photoelectric sensor controls, the filling, plug insertion & cap sealing operations are completed in cGMP compliance manner. It is suitable for eye drop, small volume liquid injectable, cosmetics, volatile oil packing applications.
Filling
It adopts high quality hygienic glass material for filling pumps. It allows for volume adjustment of one single cylinder or complete set of cylinders. It is using a universal joint in connection of cylinder and filling nozzle to minimize breakage. There is a photo sensor for bottle detection so to achieve a goal of Bottle-Fill and No-Bottle-No-Fill.
Dropper insertion
By using a mechanical arm with a jaw will allow the machine to insert the plug precisely into the bottle.
Cap Placing
Before placing a cap on the top of a bottle, a photo sensor detects the availability of plug. It avoids bottles without plugs.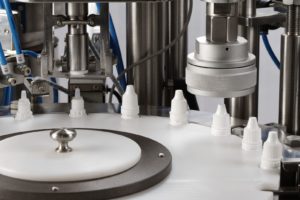 Cap Sealing
There is a bottle clasping device at the sealing station, while the sealing head equipped with adjustable torque as needed for individual cap & bottle, in addition to tension absorbing mechanism to extend sealing durability.
Powder Filling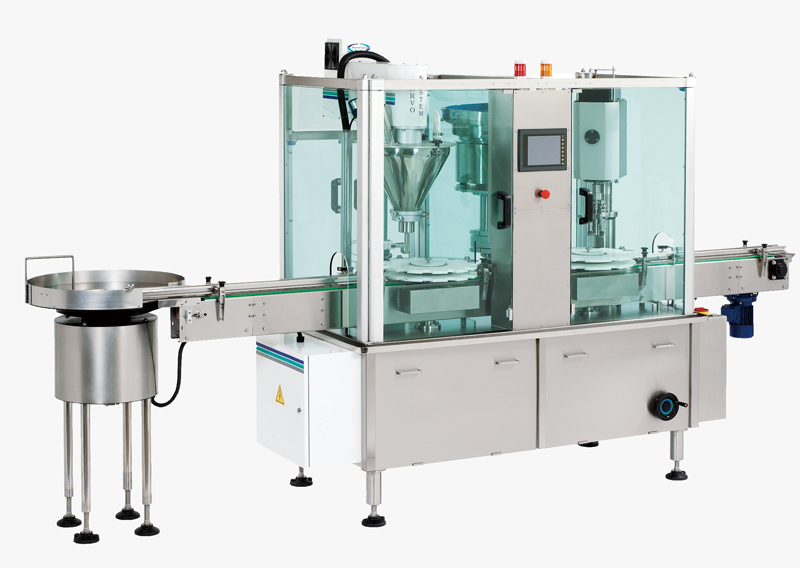 Product Features:
This is a type of machine which is able to fill powder into bottle. It is using the single piece machined rotating auger for filling of powder material into a container. Good in looking, no powder spillage, meeting cGMP rules are some of the features. It is suitable for automatic packing of free-flowing powder materials such as granules, powder, chemicals, Chinese & Western medicine powder, coffee powder, etc.
Powder Filling
The machine is equipped with dust detraction device to free machine from damages due to powder contamination. The stainless steel material hopper is easy to clean, which minimizes cross-contamination.
Auger
The auger is single-piece machined for precision. Adopting auger for precise filling volume, filling is kept within +/- 1 – 3% weight variation, depending on powder physical characteristics. With a stirrer rotating in the material hopper, it ensures a smoother and more precise filling operation.
Roll-on cap sealing
The sealing head is a sealing roller design, possible for adjustment of cap sealing tightness without affecting smooth appearance of caps. It is easy in bottle size change-over for different bottle cap sizes.
Tube Filling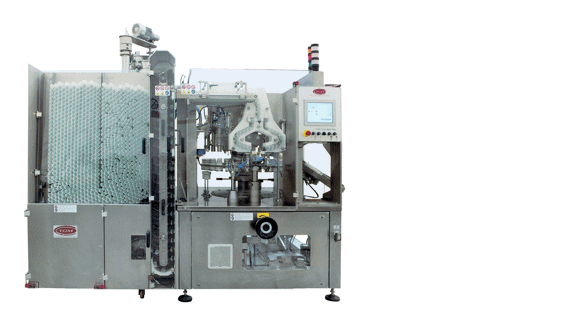 Product Features:
This valid and robust high speed tube filling machine is able to fill 2 tubes at a time. Suitable for 2-3 color co-extruded products as 2-3 color deep stripes and 2 color concentric. 14 station Cup-holder rotary table plate. It contains a diving nozzle for a correct filling up from the tube bottom and also has a CLOCKWISE rotation. It also contains an Ergonomic tube loader. Its capacity is about 6 tube boxes. Bottom tube holder rotation trough stepper motor (FDA regulation). Quick format change over.
Liquid Filling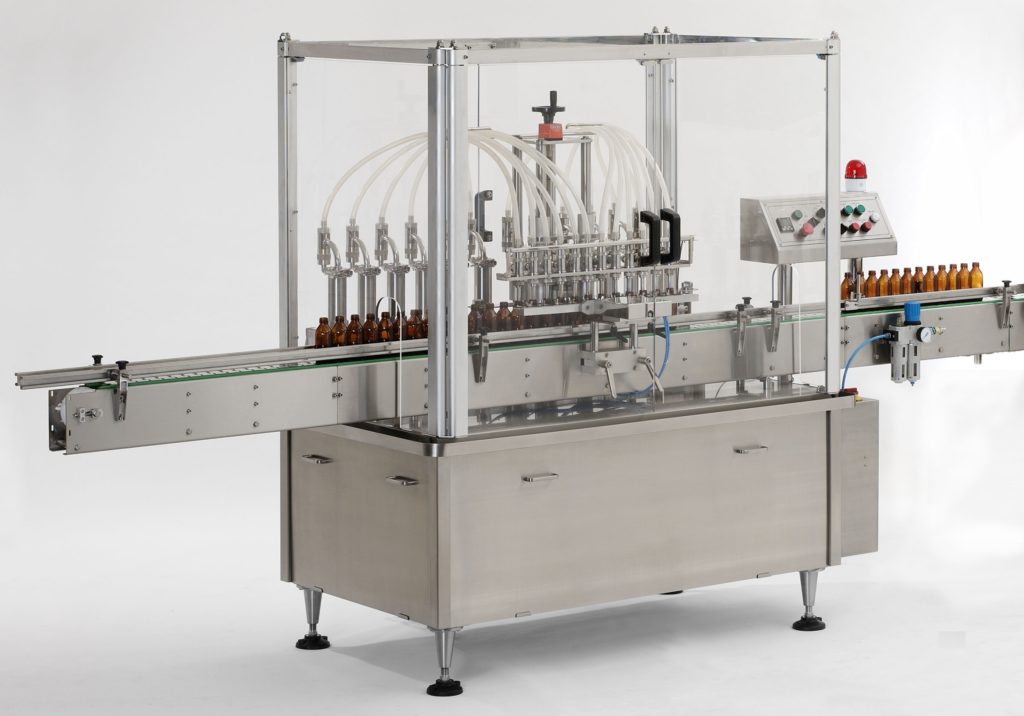 Product Features:
This is an automatic liquid filling machine of volumetric filling type, applicable in liquid of low viscosity. It is a straight-line system using pneumatic cylinders and other sensors with PLC control for bottle positioning and liquid filling without spillage and meeting cGMP rules. It is easy in operation, short change-over time for different containers, thus very economical for one-machine-multiple application operation. The automatic filling operation includes applications in chemical, pharmaceutical, food, cosmetic and detergent industries.
Major adjustment
It allows for adjustment of filling volume for all filling cylinders at the same time. Operation is quick and easy.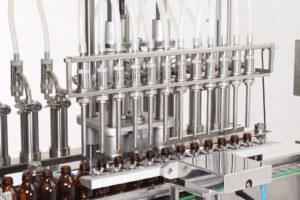 Liquid Filling
Filling pump adopts volumetric positive displacement design. SS # 316L is used for liquid contact parts. Filling nozzles are equipped with drip free devices. During filling, bottles are clamped to allow precise insertion of nozzles. Simple in disassembly of filling components and ease in cleaning, meeting cGMP rules.
Minor adjustment
It allows for minor adjustment of each filling cylinder to achieve fill volume accuracy of +/- 0.5%