Micro Filling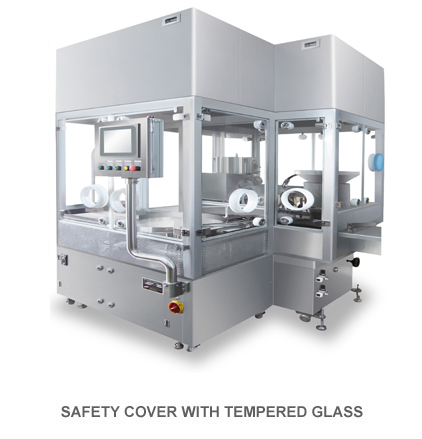 Vial size:
22- 30mm. diameter; 35~75mm. height; 12.5mm. minimum mouth diameter;
Stopper size:
20mm. standard;
Filling range:
40mg – 2g
Double Filling System:
This filling process is to fill twice with one movement to raise up filling range to 4g / vial.
Fill Accuracy:
±3%
Operating speeds:
variable; 60-100 Vial/min.
Air Conditioning, Humidity & Temperature System:
– Humidity:25% ~ 35%
– Temperature:15℃ ~25℃
– Air conditioning:Class 100; 99.99 %.
– Regenerative- Desiccant Compressed Dryer: humidity can be decreased to 15%~25%
Electric supply:
Filling/stoppering Machine:110V/220v/1-phase/380v/3ø 1/2HP,50HZ/60HZ
Feeding Conveying:40W,50HZ/60HZ
Discharge conveying :40W,50HZ/60HZ
Turntable:60W,50HZ/60HZ
Class 100 air conditioning system :2HP,50HZ/60HZ
Dryness & humidity control system :1 HP,50HZ/60HZ
Vacuum pump system :4 HP,50HZ/60HZ
Filling Vacuum System- Germany BUSCH 4hp, 50Hz or 60Hz, 380V/3 Phase:
Stoppering Vacuum System – America GAST 1/2hp, 50Hz or 60Hz
Odd Powder Vacuum System – Germany BUSCH 0.55Kw,220/380V/3 Phase, 50Hz or 60Hz
Voltage:220V/ 1φ
Air:6 kg (It has been roughly filtered and dried for vacuum dryer)
Dimensions:
Machine:L175 x W200 x H216(cm)
※The actual size is based on the shipment
Macro Filling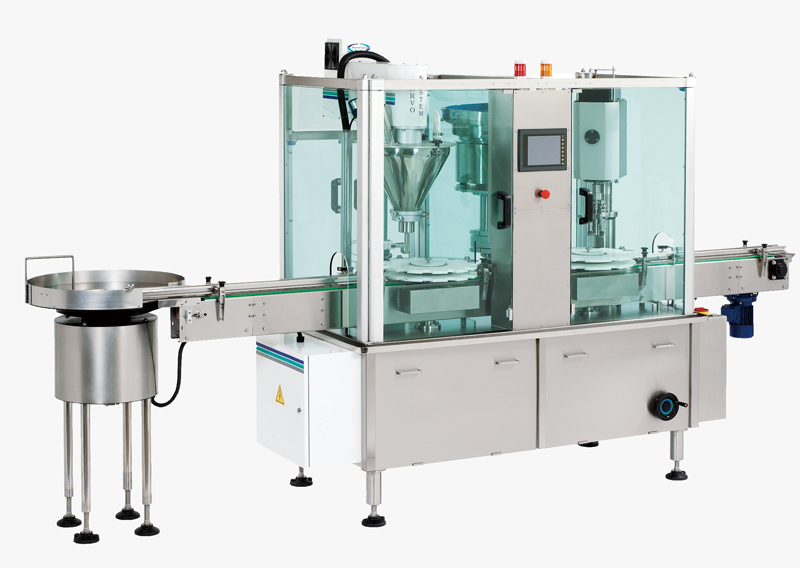 Product Features:
This is a type of machine which is able to fill powder into bottle. It is using the single piece machined rotating auger for filling of powder material into a container. Good in looking, no powder spillage, meeting cGMP rules are some of the features. It is suitable for automatic packing of free-flowing powder materials such as granules, powder, chemicals, Chinese & Western medicine powder, coffee powder, etc.
Powder Filling
The machine is equipped with dust detraction device to free machine from damages due to powder contamination. The stainless steel material hopper is easy to clean, which minimizes cross-contamination.
Auger
The auger is single-piece machined for precision. Adopting auger for precise filling volume, filling is kept within +/- 1 – 3% weight variation, depending on powder physical characteristics. With a stirrer rotating in the material hopper, it ensures a smoother and more precise filling operation.
Roll-on cap sealing
The sealing head is a sealing roller design, possible for adjustment of cap sealing tightness without affecting smooth appearance of caps. It is easy in bottle size change-over for different bottle cap sizes.