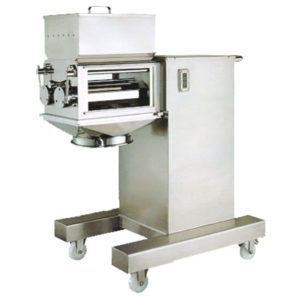 Oscillating Granulator:
Dry Granulator is designed to process bigger and irregular granules into uniform sizes of granules after the drying proces.
Mechanical Theory:
1.The principle of the Dry Granulator is to apply two continuously turning central-rollers which press out even sizes of dry granules through a wide screen (or a punch hole plate screen).
2.This machine not only has a sieving function, but also a milling function, which makes better quality, faster production, and greater quantity possible.
3.Granulation screen:mesh size can be varied to suit different type of products.
Features:
1. High production output.
2. Meet with GMP standards.
3. The special design of the patent-shaped roller enables better and faster granulating results.
4. special seal and bearing designs prevent black spots and ensure product quality.
5. Forward and reverse rolling directions prevent blockage.
6. Ease of screen changeover(perforated plate screen)
7. Easy to operate, clean , and assemble
8. Discharge system in cop with vacuum suction device to eliminate dust contamination. (OPTIONAL)